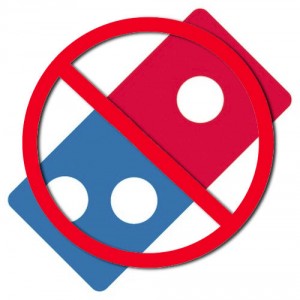 All right.
I know that we all take a risk when engaging in social media, and you can believe me when I tell you that few people pay closer attention to managing that risk than Yours Truly. I have all applications blocked on Facebook, my profile is locked down tight except to friends, I never use my real name (or especially my Facebook identity) when commenting on forums or news articles, and I have an alternate email reserved for purposes whereby I might receive inordinate amounts of spam. I am not careless.
Yet, Domino's Pizza not only found me (because I happened to be logged into Facebook when I ordered a pizza from them online), but they posted a link to their site — as me — on my own Facebook wall. I was told by a friend in the restaurant business that the company rolled out a new TOS that enables them to do this.
Well, where was the email to all the site users, telling them of this change? While I admit that I don't read the 4500-word (yes, I pasted the TOS into Word and did a count) agreement EVERY TIME I ORDER, this came out of left field, completely. And I don't like them for it.
In fact, I don't like them so much, I had to tell them about it. It was among my best work.
I suppose I should also insert an additional reason for my Domino's divorce. The last two times we've ordered, the Thriller has made the "wet dog" comment. Their sauce or dough seasonings or something reminds him of the smell of a wet dog. If that alone isn't a reason to say bye-bye-bye, I don't know what is.
Regardless, we're done with the three dots, and they're done hijacking my social media identity. And for good measure, I removed the "TM" from the logo before I put the red circle on it. Take that, homie. Hmm. Must be Snark Week around these parts.
For sure, it's Go to Bedford and Buy the Car day. Oy…could this be why I'm fussy this morning? Saying bye-bye-bye not only to the dots, but the dough?
I hope I don't chicken out, but if I do, you will know it was for a good reason.
Stay tuned! Rant over.
FO