…when I couldn't sleep at 3 a.m.?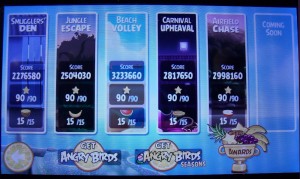 And now I've smoked every level in every world in all three games (Angry Birds, AB Seasons and AB Rio), getting every secret banana, watermelon, coconut, egg, mango…what to do now?
Ah, right. Work. Oi. But hey, the weekend's coming, and in between writing rhythm section and horn parts and rehearsing, it's time for another test drive on a cake. This time it's carrot cake with cream cheese filling & icing. The Thriller is all too happy to be my taste-tester.
Rehearsals this past week have been, well…interesting. Hey, here's an awesome non sequitur: I hardly ever remember my dreams/nightmares. Only rarely. Well before I forget it, I have to tell you about the nightmare that woke me up at 3:00 this morning.
I was driving on the interstate in a strange SUV with people I didn't know. Cut to scene: I'm in the ladies' room at a rest stop, and some woman keeps trying to open the bathroom stall door and expose me to all & sundry. I keep asking her to knock it off. Cut to scene: I'm sitting in some court room. Seems I cold-cocked the gal and she sued me. Who's my lawyer? Saul Goodman from Breaking Bad. HAAAA. I keep telling him that I have absolutely no recollection of striking the woman. He says, "Hey, you gotta tell the judge." I no sooner get the words out of my mouth than the judge says, "Remand her to custody." As I plead with the strangers I was driving with to save me, I jar awake and look at the clock — 3:04.
Fantastic. What could it all mean? I consulted Dream Doctor and shook the 8-ball. The closest explanation I could find was this:
 If a dreamer searches for a bathroom but cannot find a private location (all the shower stalls are exposed, or strangers are present causing the dreamer to be uncomfortable), the dream may indicate fear of expressing one's "private behaviors" in public.
Erm…
So hey, tell me the weirdest dream you've ever had. I shall interpret.
Fink of many colors (and secrets, apparently)