The Finkmobile. She is cursed.
Bambi's mom. She is dead.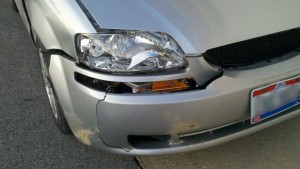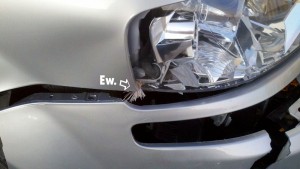 After all that hassle with the body shop on the last go-around…now this. Same side of the car, same sort of damage. What can you do but laugh? (And pay the deductible?)
It was dark yesterday morning, and — irony of ironies — I decided to take a main state route to school instead of the rural one, in order to avoid the deer. Eeeeyep. The gigantic doe appeared out of nowhere, about five minutes outside the city limits. I didn't even apply my brakes until after the collision. My priority at the time was not locating the deer, but avoiding the oncoming school bus, which I did. Fortunately, I was near the Bailey Lakes General Store, so I hobbled into their parking lot, got out, and eyeballed the damage.
After getting under the front end and dislodging a piece of bumper that was stuck between the fender assembly and the brand new tires we'd had mounted just last week, I got back on the road to school, as the car was basically driveable. I must admit though, to quote Lynyrd Skynyrd: I was shakin' like a leaf on a tree.
Of course, the first question my middle school (and some high school) students asked was, "Did you go back and get the doe so you could take it home and eat it?" *massaging massive headache* Yeah, sure thing, kids. That's what I did, yep.
Calgon…
At least she was gone by the time I drove home from rehearsal last night. I dreaded finding her there. Actually, a colleague called me on his way home from school and told me he couldn't find it on the side of the road, so that was a good thing. An avid deer hunter himself, he added, "Some hillbilly probably picked it up and cooked it for dinner." Ha. Anyway, nothing like returning to scene of the crime and discovering the corpse still there, indicting you with its dead eyes. Glad I avoided that.
So, once again, we start the process of estimates, paperwork, phone calls, appointments and repairs. One thing's for sure: we won't be going back to the World's Worst Body Shop Ever. I'm no good to anyone if I'm sitting in jail.
Fink out (of the deer huntin' bizniss)