Day 2
Describe your first car.
In 1976, my dad cosigned for a $500 bank loan to close the deal on a lime green 1971 Ford Pinto for me. A really nice one would have looked like this: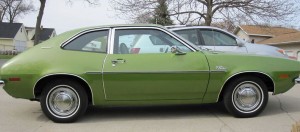 Of course, mine looked nothing like the picture. Lots more wear and tear, and since it was Ohio: rust. Then there was its tendency to blow up on rear impact. Ford ran the numbers and decided it would be cheaper to pay out damages in lawsuits than to fix the problem, but the notorious "Pinto memo" is shrouded in controversy and widely misunderstood (even though Time bought it).
One of the funniest memories of my Pinto was having to drive my boss (president of the company) home in it one summer afternoon. The reaction from a man who had driven only Cadillacs and Continentals for 30 years was quite entertaining. Still, the little piece of junk never died on me, and I drove it all over creation without a single thought of a breakdown — long before there were cell phones to call out for help. It was a different time, you know?
So, tell me about your first car.