It's on. It draws near.
My feast, I mean. My birthday feast. It's a tradition in our family that everyone gets a feast on their birthday, with a menu completely of their own choosing, right down to the dessert. They also have to provide several answers to this question:
What would you like for your birthday?
Here's what makes me mad. I tell myself every year that I am going to keep a list of little things here and there that I notice online or in the stores that might be good to ask for as a birthday gift, because I always, always forget as time goes on. But do I actually compose such a document?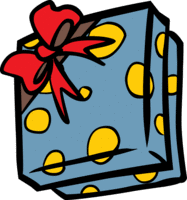 So when Mavis and the Thriller say, "Be thinking of some ideas of what you might like so we can tell the family," I hit that Start/Search function to find the Word file that I *know* must be there because I said I was going to keep a list…
But, alas.
Fortunately, my family are great gift hunters. They always seem to find the coolest things, even though I've been a loser and haven't given them a single idea. But they're also very practical, and seek to get gifts that the recipient will use and enjoy. Simply stated, they just bat 1.000 for everyone, every year.
So, the days grow short. Hey, I know — a resolution. I will take care of the Git List this very morning, before I start on my Schoenberg assignment. [O Freude, O Glück. I fear it is time to shoot myself.]
Fink out (of ideas already).