As I said over a year ago, which was the last time the Browns really did anything impressive: that was worth staying up for.
Big Ben got his chimes rung eight times by the Cleveland defense. That can't have felt good on a night when the wind chills were way below zero.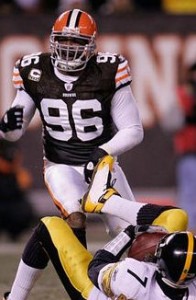 Josh Cribbs finally got his win, and he wasn't ashamed to say how much he relished it:
They're going to hear that bus's engine all the way back. That's a lonely ride. I've ridden that ride for five years now. It's time for them to hear that engine all the way home while they look at the stat sheet."
I was like, "Oh yeah, I hear ya" until I read his next quote, referring to Cleveland's many Pittsburgh fans:
I hope people go to work and kick those Steelers fans."
Hmm. Not so good. Comments like that tend to draw the accidental elbow to the head, spear to the ribs, or the slightly over-enthusiastic body slam on a tackle next time.
No matter. I'll take this win because it's about time they beat Pittsburgh — even a Pittsburgh going through an extraordinarily (and uncharacteristically) rough season.
Yay for da good guys. OK, now I want to go back to bed.
Blarg.
Photo credit: clevelandbrowns.com