We're down to our last day at home!
Yesterday was ka-razy, but ended on a fun note with having the Js for a final overnighter before we (and they, on Friday) leave for vacation. The Thriller, in his inimitable, efficient fashion, has the car almost completely packed up and ready to jet:
We had a nice evening with the boys, chatting over dinner, playing Wii, walking down to Uncle Lars and Aunt Helen's house, and making our own frozen yogurt sundaes: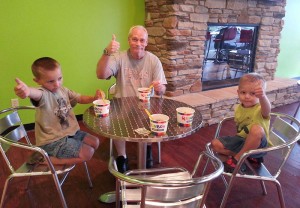 Back home, then baths and bedtime. By 9 p.m., Grammie had about had it.
Today is busy with a last-minute trip to the store, some laundry, and hopefully some rehearsal time for the Dallas gig this Saturday. Tomorrow at 5:30 a.m., we hit the road for the first leg of the Odyssey, en route to Mississippi to visit Daddy and Kathy.
I remember thinking at Christmastime, June will absolutely never get here. And now here it is: the penultimate day. Am I too worn out to be psyched?
Nah.