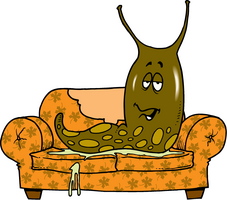 Y'know…
I made a list today (*gasp*! I can hear my sister falling off her chair from across town), and it has 16 items on it. And here I sit, unwilling (I almost said unable, but that wouldn't be honest, would it) to tackle it.
Need some righteous ambition this day. I looked for sympathy on Facebook, and the only response I've gotten so far is from RtB fiend Will, who said he was having trouble with his own ambition, so I was out of luck.
Dangit.
Can no one stop the incessant whining in my head? I say it's in my head because the Thriller is gone today, so there's nobody to listen to my mewling, except Rousseau. And you. 
What do you do when you can find no motivation? I mean seriously — what gets you up out of the chair? My nephew just posted a reply on Facebook, saying, "Starbucks, Auntie. Starbucks." Ha — it just so happens the Thriller bought some yesterday, so I am rinsing down a mug at this moment. Somehow, I don't think that's going to be the ticket.
Help, Mr. Wizard(s). Help.