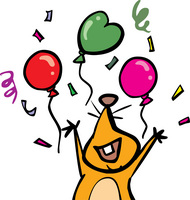 For the long weekend, I mean. I surely am.
Labor Day is always a favorite for me, because it allows me to have a brief break after school begins to re-energize and get ready for the long haul that is September. It's one of my least favorite months, musically (lots of re-teaching and redevelopment in the choirs to deal with).
But it also signals the beginning of football season, which makes me glad. *yay* Not that the Browns have a hope of doing better than 8-8 this year, but it would be nice. It's better than a(nother) losing season. Let's not go there, shall we?
Instead, let's hear about everyone's Labor Day Weekend plans. What's up for you? For me — nada. And that's how I like it. (Well, there's choreography and school work, but that doesn't count as "weekend plans.")
Get happy, fiends — it's almost here!