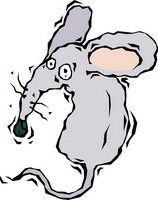 It's Finkday. It has been a heck of a long week, fiends. Like two weeks stuffed into one — and I've only had school four days. Monday's snow day feels like forever ago. Maybe it's because of the marathons of Tuesday and Wednesday.
Last night was nice. BFF Kay and Bob came over for our customary Thursday night dinner and movie, and they brought delicious gnocchi with beef. We watched Goblet of Fire. Maybe we can get Order of the Phoenix and Half-Blood Prince in over the next week or so, and then go to the theater to catch Deathly Hallows before it falls out of circulation and into waiting-for-DVD purgatory. Then we'll be all caught up.
Perhaps the next Movie Night series should be the Narnia films. I've never seen any of them. Are they good?
OK, time to go make the donuts. And tomorrow — the Chocodoodles. Yay!