I really really hate…among all my other ridiculous neurotic phobias…staying in a hotel on anything higher than the second floor.
So we checked into the Greektown Casino Hotel last night, and after I signed on the line, the hotel desk clerk gave me the key card in a cute little envelope. It said "2114," and I guess for a moment I saw "214." I said, "Oh, we're on the second floor?" He kind of smiled and was about to say something, and then I looked again, and it dawned on me. I said, "It's the twenty-first floor, isn't it."
"Yeah."
Great.
Truly…ever since I saw a special news report back in 1980 about the fire at the MGM Grand Hotel in Las Vegas, I can't get the images out of my mind. I saw, on videotape, a woman jumping out of an upper-floor window. I mean, how bad — how hopeless — is it when you willingly leap to your death? It has just spooked me ever since. Haunted me, really. Therefore, I hate staying up high.
I know, I'm a wackjob. Here is the view from our window (which, by the way, was absolutely flush with the outside world…no balcony, no ledge, no nothin…just 1/2 inch between me and the great wide open). Clicky: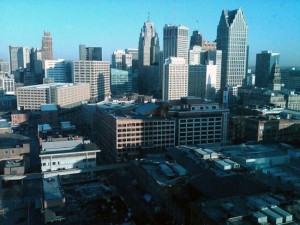 But I must say, the walk-in shower was magnificent: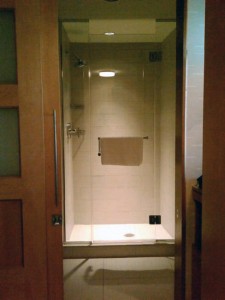 OK…I'm off to bed to read.
Fink (worn) out.