We edu-types are calling it another Christmas break in the books. I won't go as far as to complain, however, for fear of raising the hackles of my private sector fiends.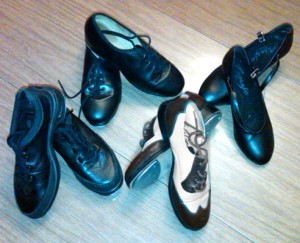 And so it begins: the frenetic ride towards Easter Sunday. Time to fish the dance shoes out of the closet (since I got no dancing done over break) and choreograph about six numbers. Joy.
My general love of shoes definitely spills over into other areas. Why does a person who only dances three months out of the year need three pairs of taps and two pairs of jazz shoes? (My jazz sneakers are at school and thus unavailable for this photo shoot.) Unadulterated greed. And vanity. Vanity of vanities, saith the Fink. All is vanity. But hey, it's  for a good cause. Anyway…
I am back in my old routine, but over the last couple of days, some of my family members have adopted a *new* routine: quitting smoking, resolving to be less stressed, having more fun, taking things easier, and being more independent. I think that's fantastic. I need to focus on some improvements as well — mostly health-oriented. I simply must be nicer to my aging bod. Period. That is going to happen. Check back a year from today and see if it didn't.
So what are we doing with our last day of the holiday weekend? The Thriller and I may go see a matinee, since we never got to any of the movies on our holiday list. Or we may just stay at home and watch the last Browns game of the season. What if they were to win four in a row? I wouldn't know what to think. I'd have to withdraw my membership in the "Shut Up, the World Isn't Going to End in 2012" club. HA
Have a great Sunday, fiends. Tomorrow, it's back at it…
Fink out.
PS – Happy Birthday, Helen!