Not THAT kind of hangover, silly. (We've been a boozeless household for many a year.) Rather, my creaky bod tells me it's a good thing that I only do a bash like that (getting up at 5:30 and cooking/cleaning all day) every once't in awhile. Not that I don't enjoy doing it, mind — looking forward to the next feast, in fact — but the morning after is kind of sloowwwww-movin'. Ha.
The Thriller's 60th celebration was a blast. Fifteen family and friends came for dinner and laughs. And dessert — the most important part, of course. In fact, I'm fond of saying that I go to weddings just for the cake. Or that the lovely meal is just a formality; I'm here for the chocolate, dudes.
It was great seeing everyone, and a big shout-out goes to Helen and Simone, who were such great help to me before and after dinner, and to Hannah for picking up items on the way over. To say that I have beautiful, thoughtful daughters-in-law and step-daughter is an understatement.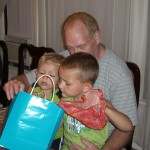 The birthday boy had a blast. He ate his favorite foods, and loved all of his gifts. He enjoyed having help opening them, too — such fine, able-bodied assistants, don't you agree? And cute.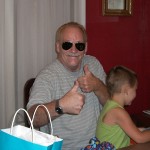 He's wearing his new Ray-Bans to Columbus today, even if the sun isn't out.
I should have tried to get a group photo, but I didn't think of it. My sons will tell you I was never much of a shutterbug; I didn't follow them around with a camera. Perhaps I should have. But thinking back, I wouldn't have had the money to get film developed anyhow. It was all I could do to see what I could throw together for dinner in the early days. But they were still fun times, full of love and laughter, in spite of having waffles and pancakes five times a week.
Anyway, the party was fantastic, and he doesn't feel a day over ninety this morning. Pretty good for a Monkday. Hope you can enjoy yours!