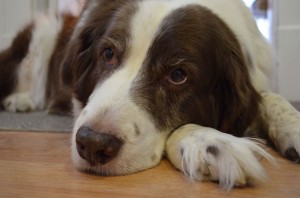 But not shattered.
That's what I told Lars yesterday, after we lost our dear Rousseau during surgery. Our hearts are broken, but only temporarily, because of the joy he brought to our home and our family. We will return to that joy in the form of our memories of him.
Rousseau came to us in 2005, when our friends Bob and Kay moved to Europe and couldn't take him along. They'd adopted him as a two-year-old, from the local animal shelter.
At first, I was adamant against taking him: No dog hair in my house! The Thriller was bummed. But then we kept him for a weekend, and it was all over. It took Rousseau about five minutes to win me over, and he came to stay soon after. What I wouldn't give to see those tumbleweeds of hair in the corners this morning…
A part of me died with him yesterday, and I was happy to lose it. He was the best companion anyone could ever want.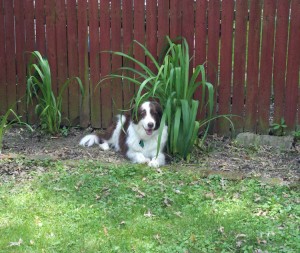 He had no bad habits. Zero. He didn't chew on furniture or shoes. He wasn't a barker. He was indifferent to other animals (except the occasional groundhog — those got him going). Never had an accident in the house, outside of barfing a couple times. Playful, obedient, gentle, smart, affectionate, patient, cooperative and quiet: he was everything any human could have wanted in a pet, and more.
He did shed, boy howdy. But that wasn't his fault.
I will miss seeing this face bumping up under my elbow at the computer — something he did every time he thought I needed to get up and feed him or take him out. I will miss the nights of sitting on the floor with him, with his head on my lap.
So much I'll miss, but so much to treasure. It's good to talk about him.
Wait for us, Rousseau. We love you always.