I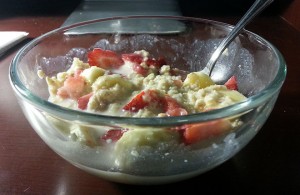 had a funny thought as I made my breakfast (pictured, of course, because that's what silly people do: take photos of their food) this morning.
I used to hate oatmeal. I mean, really hate it. Maybe it's because Mother tried to make me eat it when I was, oh, five years old, and I clearly remember gagging. She thought I was being dramatic, but I was for real horking on the stuff.
Well, now I love it. As I cut up the strawberries and bananas to put in it this morning, I mused on all the foods I used to hate, but really like now:
Salads and salad dressing (although I will eat only Caesar dressing; no other kind)

Sugar snap peas
Pizza (Can you believe it? A teenager who hated pizza.)
Cranberries
Rice
Alfredo sauce
Cantaloupe
Bizarre, eh? I guess your tastes really do change as you get older. Do you have a list like this?
Speaking of tastes, I can't finish my oatmeal and type at the same time, so I'm out. Yay for Finkday though.
Happy weekend!