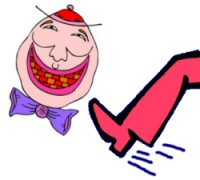 Y' know…I don't ask for much.
Tonight, I'm leaving for Cincinnati to go to a music geek convention. Yesterday, after a particularly difficult day, I called the hotel down there to confirm, and I asked about WiFi. The nice gal said, "Yes, we do have internet access in the rooms — it's $9.95 per night."
"$9.95 per night!!??", I shot back. "This is the Hyatt Flippin Regency fuh cripesake! Motel 6 and Super 8 will give you WiFi for FREE, but you are charging $150 per night for a room AND $10 to get on the web!??"
She apologized, then I apologized. I told her I knew it wasn't her fault, but that somebody is getting rich off this and it ain't the poor slobs who pay for the privilege of a bed and a shower. I know…I get reimbursed by the school for the expenses, but it's the principle of the thing. Honestly. Find any little reason you can to rip folks off (sorry for the split infinitive; I'm honked).
*straightening hair and skirt*
Just saw these comments on a Toledo TV station news article about a woman who left her 3-year-old daughter on the side of a road: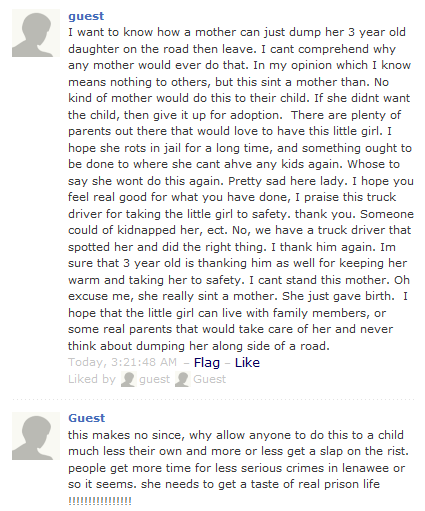 ~
Anyway. At least the day sucked and I had a really difficult tap rehearsal and got home at 9:30 and now every single school in the area is on a 2-hour snow delay — except mine. Ah, wait. Just got the call.
Time for more coffee…and time to pack! Happy Thursday, fiends. I will post to you tomorrow after paying $10 for the privilege.
Fink out.