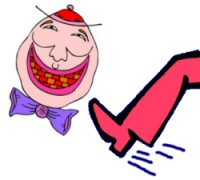 I experienced  felonious thoughts last night, and I think I still have them this morning.
J'ever have someone say, "Here, have a cigar," and when you lit it, it exploded in your face? J'ever have someone in a supervisory position tell you, "This is what I want," and when you gave it to him, he said, "Oh, that's not what I wanted." Such is my life at my present university. And I don't even smoke cigars.
BTTH for BU. One thing is for certain: the first of December will never, ever get here.
*straightening hair and skirt* OK, I'm over it now. (Not really.)
So how is everyone this fine, chilly morning? I am looking forward to rehearsal. Need to get some road behind us on several numbers. I did give up going to the zoo with Jake today, but…
Everyone likes company. Especially misery. So who do you think deserves a BTTH today (besides me, for being so snarky when I have a wonderful life)?
FO