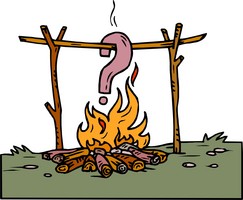 WHAT do you get for the person who has everything already? I know gift cards are the standard answer, but I'd like to stay away from those. Cash is out. Has to be something nice and thoughtful (and I'm not "crafty," so it unfortunately can't be anything I make on my own).
It really is a constantly-asked question, isn't it. There are several people on my Christmas list like this — mostly friends. I mean, you know your family's hobbies, special likes & dislikes, etc., so they're not as perplexing. Besides, you can always ask a sibling or spouse for help.
But how do you score with buying presents for he/she who has seen everything, done everything and has everything?
Hep me! Please and thank you.
Begin.
PS – Last night was weirdsville at the Fink house. No revisions to do, no reading 15-page journal articles, no studying…bizarre.