As I fly backwards at 100 mph on the Virgin 10:20 to Manchester, listening to Revolver on my headphones, I reflect back on the last two days in London, and indeed, the last six days I've been on this odyssey. Would the Thriller be happy with all of this? I think so. I think he's smiling down on me, and it makes me happy. It's a melancholy happy, as those of you who've lost someone know. I'll never be happy in the same way, ever again. And I think I'm getting accustomed to finding different ways to cope with that. I don't imagine I'll ever "arrive," but I do know there are healthy ways to keep stabbing at it. I'm resolved to make the best of it.
Boy, did Miss Suzanne and I make a day of it yesterday! We started with breakfast at our hotel at 8 a.m., then took off for a day of nonstop craziness. It was the most fun I've had in ages, and I was delighted to have it with Suzanne. While the day was nuts, the mood was completely laid back, if you can imagine that. There was no We have to get to the next THING! attitude at all; rather, we said if we didn't make a connection or the line was all the way around the block (like it was at Westminster Abbey), no bigs. We'd punt and do something else. I loved it. I was on vacation, and I wasn't going to follow a list, and she felt the same way. First priority was to enjoy each other's company after not having been together for four years — and did we ever do that! Such fun.
First up was the Tower of London. From Traitors' Gate to the Crown Jewels to the world-famous ravens, it was a truly impressive experience. Also sobering, when you consider how severe the conditions were — especially for those convicted of crimes and awaiting punishment. As we looked down at
Traitors' Gate, I imagined the journey that prisoners of the Crown made, en route to their final destination (in life), looking at the heads of previous "criminals" on pikes on the tower bridge…then to make the final ascent up those stairs and to the Tower…just barbaric treatment.
Up next was Westminster Abbey. When our taxi dropped us off, we couldn't believe our eyes. The line was almost all the way around the cathedral, three and four bodies across. And we had tickets already; this was the security line to just get past the desk and join another queue to wait your turn to file through. With just over 12 hours to see and do everything we thought we could fit in the day, it was decision time. Do we want to blow through two of our remaining hours standing in line, or get on to other things? Suzanne had been to the Abbey already, and I'd seen countless photos and documentaries…I know, not the same thing, but we pulled the plug on it in the interest of not having most of our London experience spent waiting in line. I'm glad we decided to move on, because we moved onto the Tube to St. John's Wood — to Abbey Road.
Standing on the zebra and in front of the studios was like a circle being completed. I know it sounds silly to those who don't understand, so I won't try to codify the experience with words, because I probably couldn't anyway. It's the magical mystery that will forever remain so, and I'm fine with that.
It made my heart happy to hear Suzanne tell me how  touched she was that she got to be there to share this experience with me. It was very emotional, and I'm glad that, even though she's not a big Fabs fan, her empathy for this hopeless addict came through loud and clear. It was definitely a once-in-a-lifetime thing.
After that, it was lunch at the Admiralty Pub, then off to scout out a hop-on/hop-off tour that would take us to the big-ticket places for a looksee. What fun for our eyeballs, and relief for our aching feet. We saw world-famous sights, including Hyde Park, Buckingham Palace, Piccadilly Circus, Trafalgar Square, and many others. There were a few tourists in Oxford Circus. Lawd.
After the double-decker, it was off to the London Eye. Suzanne didn't think I'd be up for it, but after all my previous experiences in overcoming my ookiness with heights, I was like, why not? It was totally entertaining, and we got a great view of the Thames, Parliament, and Big Ben (although he was 99% covered in scaffolding for repairs).
After that, it was a quick trip back to the hotel to get ready for the evening. We went down the street to a pub for some appetizers, then hoofed it to Whitechapel for the Jack the Ripper tour. Very interesting way to finish out our London visit. Philip, our tour guide, was funny and interesting, and we walked the same streets that the poor victims walked during those frightening months in 1888, when the town was terrorized by the most famous serial killer in history. It was fascinating to look at the old versus the new on this walking tour; every street had a modern vibe, but with a deep, dark history lurking beneath.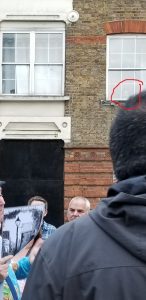 And here's something that completely creeped us out. We were standing in a square, listening to Philip speak, when my eyes were diverted upwards, to a window of an old building. While at first thinking I'd seen nothing, I strained my vision again to bring into focus the face of a girl — just staring at me. Staring at all of us, from the window. She never moved the whole time we stood in that space. I got Suzanne's attention, and she saw her, too. The gal was probably just putting us on ("Let's give a bit of a fright to the Rippers down there…"), but it definitely had me going for a minute!
Afterwards, we draggled back to the hotel and had a drink in the lobby before calling it a night. After a good night's sleep, we met for breakfast and said our goodbyes. I will miss you, Suzi! I hope you had a good train ride back to NL.
At this point, I'm ready to pull into Manchester train station and spend my final day in England. Looking forward to relaxing a bit before the flight tomorrow. I want to thank my family (sister Mavis, my sons and stepdaughter) for working together to care for Remy so I could fly away and goof off these many days. You're the best! And to my sister and sister-in-law, Vicki and Vicki — thank you so much for all the great advice on getting around in the UK. Your instructions have been spot-on, and so helpful! I couldn't have booked this thing on my own without your help.
And to you, my fiends — thanks for coming along. It meant the world. OK, we're almost to the station, so I have to check out of this wifi. I'll talk to you stateside.
Much love…