The last time I was in England was 1976. It really has been great to return and experience the London sights as a grown-up.
I left Liverpool in a frenzy of uncertainty because of the construction that closed Lime Street Station (my original point of departure). South Parkway Station was a zoo when my Uber driver dropped me off. But I ended up getting on a train going the right direction, and leaving earlier than my previously booked trip, so….score!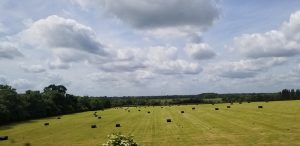 Lush farmland (and one yikes) dressed the view on the southbound trip to London. In many ways, it reminded me of the green of Ohio. Cows are cows and grass is grass. What struck me most (and I'd remembered this from my last trip) is that there are virtually no houses with clapboard or siding. No wooden dwellings. Everything is almost exclusively made of brick or plaster of some kind. I know there are several reasons, and I won't discuss them here, but it was neat to see all the structural differences.
Once I got to Euston Station, I had to run to catch another train to King's Cross (alas, there was no Gate 9 3/4, although I confess I didn't look; I was running). From there, I found the right line (there are three subway lines that run concurrently, using the same platform and track, so a person has to be on her game) and parked my little self in, surprisingly, a mostly empty train.
And sorry, NYC — the bright platforms in London have your dungeons beat by a mile. I dunno…maybe it's unfair to compare them, but I didn't feel depressed and I saw nary a rat on the tracks — unlike my New York experiences. (It's OK tho — I still love NYC the most.)
After arriving at Aldgate, schlepping my 17-lb. backpack and myself off the train, up three flights of steps and out into the air, I hoofed it a quarter of a mile to my hotel. At long last! Then I waited for Suzanne's train to arrive. She got to the hotel a few hours later, and we met on the elevator — a joyous reunion! The rest of the evening was spent eating, drinking, talking, and laughing: basically c!atching up on the last four years since we'd sat across the table, face-to-face. She's a joy!
We have a super-busy day planned today. Lots to tell you about tonight; I hope you'll check back to see some pretty pictures!
Much love to all.