And it's not just because the Thriller surprised me with new Fiestaware this week (int he fantastic?).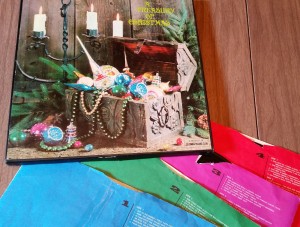 Rather, it's on account of my buying a cheapy record player, and revisiting my childhood this morning by playing what could be the defining collection of music from my growing up years: A Treasury of Christmas, bought by my mom around 1970, as a member of the old Columbia Record Club. Long since lost to the garage sale or the dustbin, I repurchased it on eBay several years ago from a vintage vinyl store, and put it away in hopes of transferring it to CD one day. I was happy to get it back out for a test drive.
I put LP #3 on the turntable this morning over coffee, and from the second I heard the intro to The Christmas Song, sung by Johnny Mathis (his interpretation and phrasing on this 1958 classic is an absolute masterpiece; my favorite rendition of all time), I was transported back to 1974, lying on the living room carpet in front of my parents' massive stereo (it looked a lot like this), singing along and learning every lyric and turn of phrase. His version is truly one of a kind:
As I sat listening, an enormous sense of nostalgia and reminiscence flooded into the headphones. Almost a melancholy of sorts; so many great memories of Christmastime in my family, mostly from the late 60s-early 70s. It was wonderful to relive them. And of course, I sat and bawled. How I wish Mother and Dad were here so I could share these memories with them.
Christmas in June: a beautiful way to start the day. Here's hoping the Cavs can finish the evening in the same fashion…