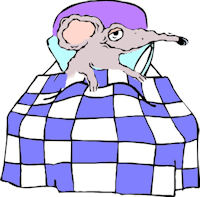 Normally, I hate school cancellations on Friday during a rehearsal run, because the ballgame always gets rescheduled for a Wednesday night: the *only* night of the week I can get all my cast members together for a company rehearsal of any kind. I have so many athletes in the three winter sports (men's/women's basketball, men's/women's powerlifting, and wrestling), it's near impossible to assemble all 25 kids in one place for two hours. It's madness.
But today, I was grateful and relieved to get the cancellation text. My lungs feel like two enormous slabs of mercury-infected salmon, putrefying in my rib cage. Every dry, hacking cough is a new experience in searing, white-hot, exquisite pain. Honestly, I didn't know how I was going to get through five rehearsals and a lecture class today, as the only thing that makes the coughing worse is talking and singing. A long weekend of recuperation should do the trick, however.
And the Thriller sounds just as bad as I do, if not marginally worse. Between the two of us, I think we're scaring the dog, and everyone knows that's pretty easy to do in the first place. Haha
This about puts the kaibosh on seeing any grandchildren or sister Mavis this weekend, too. My life is a hash. Good night, nurse.
Fink out (back to the bed)