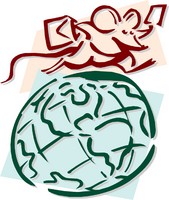 Doin' the work, doin' the work, gettin' stuff done…
I've come up for air to let you know that things are starting to shape up for opening night next Friday. Huzzah! OK, they're shaping up slowly, but still taking shape. Will you come to my show? I'd love to see you there.
Speaking of shapes — where did these ten extra pounds come from since Thanksgiving? Certainly not from the ridiculously poor eating habits of grabbing a sandwich or yogurt or pizza or candy bar or whatever when I think of it. Or the nervous munching. Or the no sleep or nutty rehearsal schedule. Or my increasing inability to keep stuff straight. Oy. Gotta get control of myself.
Still, I've gotten quite a bit done since waking up at 3:02 today. Should be ready to tackle Thursday with renewed, caffeine-soaked resolve. Details will be dealt with, problems will be solved, and the cocka-doody program will be sent to the printer if it's the last thing I do. Come Sunday the 30th, I can rest for a bit.
Until then, I'm….