We all have a day like that, don't we? I remember exactly where I was when I heard the news that John Lennon had been murdered. I remember the precise conditions of my morning (weather, what hallway I was walking, who I met coming the other direction) the day of 11 September, 2001.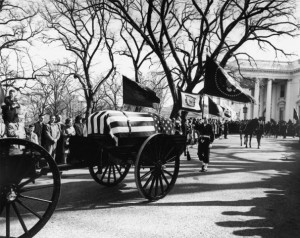 The anniversary of John Kennedy's tragic death represents the first of those "I remember where I was" moments for me. While I don't remember hearing about the actual event, watching the funeral on television is my very first TV memory, with this somber image burned into my consciousness forever.
I was four years old in November of 1963. I remember watching the horses, then seeing the flag-draped coffin behind them. Instantly, I was terrified; I distinctly remember thinking, "a man is going to jump out of that box." Weird, right? But my clearest memory is of hiding behind the easy chair my dad was sitting in, peering around at the TV, and Dad reaching back for me with one hand, saying, "It's OK. Come sit with me."
Then everything is fuzzy.
It's weird to have only that one commemorative thought in relation to this world-changing event (a world that would be further changed when idiot Geraldo Rivera got hold of the unedited Zapruder film and showed it on national TV), but I treasure it because it's my solitary link to that time in history.
Where were you, fellow crusties (and there are some even crustier than I
)?