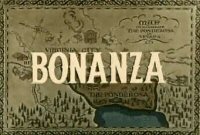 I was never much for westerns on television (that was Mavis's department), but I did love watching Bonanza — mostly because I loved Little Joe. (Who didn't?)
The opening credits (complete with the Cartwright men approaching on horseback, and the burning map) combined with the theme song are among my most vivid TV memories growing up.
Somehow, I ended up at a Bonanza tribute site this morning and did some interesting reading about the cast and episode subjects.
I loved Lorne Greene's white hair and deep voice, and Dan Blocker (middle son, Hoss, whose "real" name was Eric, for your information) was cute in a big ol' dopey kind of way. Little Joe, of course, played by Michael Landon, was every girl's favorite. He enjoyed a huge career (later producing, writing, directing and starring in the long-running series Little House on the Prairie) that lasted until his death in 1991. His first leading role was as the unfortunate lycanthrope in I Was a Teenage Werewolf in 1957. I saw that movie on TV.
Turns out Pernell Roberts, who played eldest son Adam Cartwright (and always dressed in black, which made me suspicious of him), was unhappy with the whole production — funny how we can be all up in a snit while tens of thousands of other actors are without work. Anyway. He called Bonanza "junk TV." His character was written out of the show. I can't remember how.
Dan Blocker died in 1973, and Greene in 1987. Roberts is still alive and working.
Interesting facts:
Michael Landon was the only one of the four Cartwrights who didn't wear a hairpiece. Heh.
The men always wore the same basic outfits, in case producers needed to use footage in other episodes.
In the original script, the ranch was called "Panamint." [Panamint?] Thankfully, a secretary at NBC suggested "Ponderosa," for the pine trees Ben Cartwright supposedly loved.
They don't make TV westerns like Bonanza anymore. I look at pictures of the set now, and think how fake it appears, but back then, I was in the moment, believing it all to be quite real. Childhood (along with suspension of disbelief) is a good thing.
Fink out.
Sources: BonanzaWorld.net, WikiPedia, Museum.tv