I am fortunate to have many wonderful men in my life — not only in "realtime" (the Thriller, my beautiful sons, Jakey, and various great friends), but also here in Finkville. You know how it's standard fare for a man to say, "I just love beautiful women"? Well, I just love smart men. And I am surrounded by them, both in Ohio and online. That makes me happy. Therefore, today is a toast-post, in honor of the boys who comment at RtB.
So what is my toast to you? A gift!
No, no, Poppet…it's not a 72-inch TV or power tools or a new PlayStation or Wii or a year's subscription to watch the wrestle guys on pay-per-view. Rather, I've matched each of you to a design for your fall wardrobe — straight out of the recently-concluded Paris Fashion Week. WOW!
Aw. No need to thank me.
OK, wait for it…
Wait for it…
Wait for it…
Behold: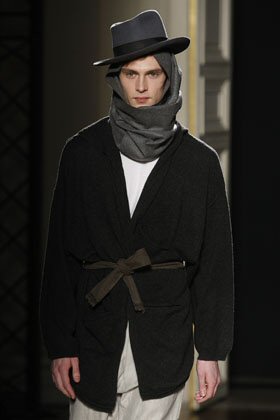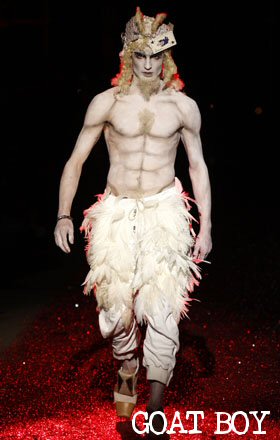 And so it goes in the world of the fashion-savvy. There you are, my boys. Go forth and shop.
Seriously, though…a commenter on one of the sites said it best, telling this year's designers to "PUT DOWN THE CRACK PIPE."
HAAA
Happy Saturday.
FO
PS – Coming soon: a tribute to the Finkville Femmes.
Photo credits: Reuters, LA Times