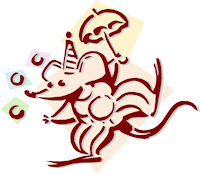 Aaaaand we're off to the circus.
Production week has arrived, and poop gets real. Welcome, butterflies. Welcome, insanity. Welcome, Subway with Stoney every night.

Yesterday was a total thumbs-up. Had a great rehearsal with my pit orchestra, then got to spend some fun quality time with Lars and the Fabulous Mr. A., who ran the square footage of my main floor and ate granola and played with toys like it was his job. Adorable child.
Only thing missing was the Js, but hopefully we can score a visit with them this coming Friday night — the only night I have "off" until next Monday.
OK, enough about me, me, me. So, what do you think about me?
Kidding. I gotta git. Production week waits for no rat. Hugs to you, my fiends.
J'aime le théâtre!