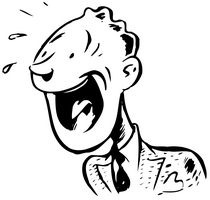 I admit it. I have a free account at the Norwalk Reflector so I can read the neverending cavalcade of completely asinine, idiotic, crack-brained comments on the articles. Hahahaaaaa
I laughed, I cried, it was better than Cats! 

All right, be serious here. Cake Decorating Class #2 coming up tonight — I'm ready for it! I've been practicing all week (two cakes baked and hours of pastry bag practice), so I'm hoping I won't look like a total dork in front of my classmates tonight. En garde…here we go!