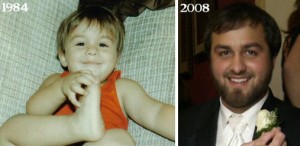 And no, I won't post the photo of you at seven months old, sitting in an antique water bowl and wearing nothing but a gorgeous smile and a fuzzy duck toy in your hands. But I really, really want to.
The Fink's handsome baby boy is 28 today. How the minutes do fly. What were you doing 28 years ago?
It's been quite a fun ride with my two sons over the years. And specifically about the birthday boy, I remember:
getting food poisoning when I was three months along, and worrying that I'd poisoned him, too (all was well, thankfully)
various trips to the emergency room for stitches in his head — the crazy things those two did…
his interest in the guitar at a young age
It amazes me at how fast life passes by, and how we need to hold on tight and get all the joy we can from it. At least that's my plan. Savvy? With me? Hm?
So happity birthday, Lars, my precious boy. The fun is just beginning.
MamaFink out.