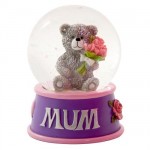 Some thank — or shake their fist at — Hallmark for "inventing" Mother's Day. Turns out that's not the case at all. (Now Grandparents Day? Sweetest Day? I haven't researched, but I'd be less than surprised to find they had something to do with those.)
Indeed, it was Anna Jarvis, not the Hallmark company, who picked up and ran with the idea of Mother's Day: a concept originally conceived a few years earlier by Julia Ward Howe (of "Battle Hymn of the Republic" fame) to honor mothers and celebrate world peace.
According to MothersDayCentral.com (paraphrased):
In 1908, Senator Elmer Burkett of Nebraska proposed making Mother's Day a national holiday, at the request of the Young Men's Christian Association (YMCA). The proposal was defeated, but by 1909, forty-six states were holding Mother's Day services. Celebrations also took place in Canada and Mexico.

Anna Jarvis quit her job and devoted herself full time to the creation of Mother's Day, endlessly petitioning state governments, business leaders, women's groups, churches and other institutions for support. She finally convinced the World's Sunday School Association — then a key influence over state legislators and Congress — to back her. In 1912, West Virginia became the first state to officially recognize Mother's Day, and in 1914, Woodrow Wilson signed it into national observance, declaring the second Sunday in May as Mother's Day.
What a big to-do, eh? The best part about it, for me, is getting to see/talk to my children, their wives, and my grandchildren. I think any mom prefers that over just about any other gift.
So if you're fortunate enough to have your mother still with you, give her a call. She'll love you (even more, if that's possible) for it.