Update!
Thanks to my wonderful sister Mavis, I now know the name of the ship my dad served on during the Korean War. This picture of the heavy cruiser USS Salem was taken in June 1952 — heck, Dad could have been on it when the photo was snapped. Cool.
Thanks, Mave!
==============
And a fond Memorial Day to all. How about a tribute to a veteran this morning?
Today I shall honor my wonderful dad.
If you've read me for long, you know that he was not my biological father. But I he was always, and always will be "Dad" to Mavis and me.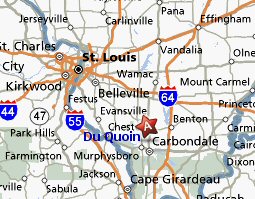 Charles Collins was born on 26 July 1933 in extreme southern Illinois, in a town of about 6,000 called DuQuoin. It doesn't even rank a name on the map, so I gave it one myself. (It's about 90 miles southeast of St. Louis, MO.) Anyway, we're talking bigtime hillbilly country. Yowza. I remember visiting my great-aunt Nina (pronounced Nye-nah, of course) one weekend, and she was cooking cabbage to make for the week's meals. Dear God in heaven. I had to stay outside in the sweltering heat, as opposed to going inside (where it was also sweltering) and smelling the cooking cabbage. I about gagged. Dad was amused, however. Anyway, I have never been able to stomach cabbage since.
Dad graduated from Geneseo (Illinois) High School in 1951, as the Korean War was heating up, and enlisted in the US Navy. He served in the Mediterranean, on a destroyer whose name I can't recall, and I'm too lazy to go upstairs and unearth his Navy records from the attic, so it shall remain nameless.
I *think* this photo was taken in St. Mark's Square in Venice. Let me know if that doesn't look right. (Click on the photo for a larger view.)
Somewhere — maybe Mavis has it — is a picture someone took of Dad diving off the side of the ship, into the Mediterranean Sea. For those who don't know, the deck of a Navy ship is extremely high above the surface of the water. You'd never get me to do that in a million years…
Anyhow, after his years of Navy service, Dad came home, worked and saved money, and then went on the GI Bill to Augustana College in Rock Island, Illinois. This is his college graduation picture. Shortly thereafter, he met my mom, and the rest is history, as you may have read before.
He gave Mavis and me a great life.  He adopted us and loved us like his own. He and my mom never had any children together, so Mave and I were "it." He didn't ever mention that fact, or seem to care about it. We were enough for him — likely in more ways than one. We probably drove him insane; he just never let us know it.
This is one of the last photos taken of Dad, circa early 90s. Even in his 60s, he had like 5 gray hairs. Not fair. He died in December of 1995, and is buried, alongside my mom, at the Florida National Cemetery in Bushnell.
He is my favorite veteran, and I'm thinking of him on Memorial Day.
Love you, Dad.