This morning I was looking at theme parks. You know, the Grammie part of me likes to think about places to take the Most Amazing Toddlers in the World (a name I won't be able to use for much longer, since one is creeping up on birthday #3), so I started snooping about. Came upon this place – have any of you fiends been there? Was it worth the trip?
Anyway, on one of many random searches, a particular venue caught my eye. It could possibly top a list of The Most Depressing Theme Park in the World. Flippin' awesome.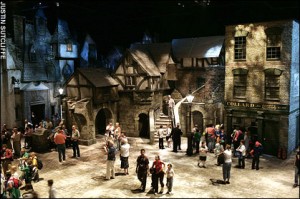 It's Dickens World, a multi-million-pound venture situated in an old dock yard in Kent, England. Wow! Take a day to experience the filth, disease and hopelessness of Dickensian England, with actors portraying the dregs of hard-luck Victorian-era society. What a thrill for the kiddies. According to the website, you can also " jump on board the Great Expectations Boat Ride for splashing good fun, take a trip back in time to a Victorian School complete with nasty schoolmaster or get spooked in The Haunted House of 1859."
And look — the place comes with its own streetwalkers, ready to sell the kids their…um…yeah. Heh.
Seriously, I think this is fantastic. I would love it. I'm just not sure I'd take my children under the guise of having a cracking good time at an amusement park. History lesson — similar to, say, Colonial Williamsburg? Yes. Yee-haw, that-was-awesome fun? Nope.
OK, so Oliver Twist doesn't float your boat. How about Grutas Park in Lithuania, where you can revisit the finer points of Stalinesque dictatorships, and, as Foreign Policy magazine puts it, "experience the joys of Gulag life, immerse yourself in the warm embrace of totalitarianism — and when you get a bit peckish, enjoy a tasty meal of 'Nostalgija' borscht, 'Deer's Eye' cocktail, and 'Reminiscence' starch jelly in the cafe"? There's also a train ride and a playground for the kids.
No? Sheesh, party pooper.
To be fair, some of these parks are not intended for children in the "entertainment" sense, but rather as an educational experience.  But when an American hears the term "theme park," he likely thinks of amusements — roller coasters, a midway, food courts and the like. Hence, the confusion.
Still, I think I'll stick to searching for the "yee-haw" element when planning an outing for the Toddlers — at least for now — before stressing to them the finer points of picking a pocket or two.
Photo credits: Daily Mail Online; Petras Malukas/AFP/Getty Images