We took a quick weekender on Saturday and stayed at the Renaissance Cleveland Hotel. I've lived in Ohio for the better part of 39 years, and had never set foot in the place.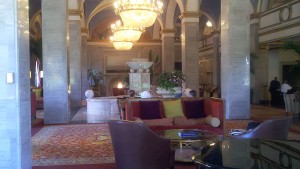 It takes up an entire city block on Public Square, home to Tower City Center and the Higbee's building (now home to the Horseshoe Casino). Coming in off the parking garage and to the lobby is quite the culture shift. From crazy downtown traffic to an ornate, quiet, cavernous lobby, restored to its 1920s opulence — it was a welcome sight.
This property has had more rebuilds and name changes than just about anywhere I've been. Its underground train terminal made Cleveland the first city in North America to have direct rail service from an airport to downtown.
We were on the 5th floor, and enjoyed a small but comfortable room — with a view of the atrium on a little private balcony. Cool. The wooden entry doors had brass plates with engraved numbers, just like in the movies/olden days.
The Grand Staircase is a central focus of the lobby. And I wish I'd thought to snap photos of the old-style elevators. You half expected a uniformed elevator man to greet you when the door opened.
It was a nice, quiet stay in a beautiful place, where we got to play pretend tourist one final time before reality hits again. Speaking of which…it's Monday morning and I have a meeting. Yay!
Sic infit.