Well, ya lives and ya learns.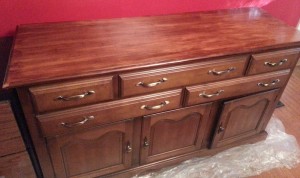 Wood quality matters, doesn't it. The sideboard — an older piece of furniture, handed down to us — obviously had some better grain to it. It was relatively easy to strip and re-stain (although I'm bummed I didn't get the color match just right…oh well, it's still pretty, and I usually put a table runner on it anyway), while the coffee table, oy…it was terrible, and still is. We bought it at one of those furniture freight places — the kind that has the commercials where the used-car-salesman-type guy screams at you like you're hard of hearing. I'm thinking it's *not* top quality.
Needs at least another coat. Kinda looks like patchworked plywood under there, too, or worse, some kind of particle board. Still — it was my fault, and I needed to fix the problem. At least the stain color was a perfect match. I'm really reticent to strip and sand it off and start over; I'm just not sure it's important enough to me to do it, when the grandsons use it a lot for their toys, games, video controllers, and occasionally, as a dinner or snack table. Meh. I think it'll be OK.
Now, on to bigger and better things. Not sure what those will be, but the Thriller just rattled off some errands that need run, so that gives me another excuse to not go into the school house today. *fist pull*
Happy Finkday to y'all! Here comes the weekend for all my private sector fiends. And for the pensioners — and you know who you are — it's just another day in Paradise.