Yep. Northern Idaho, to be exact.
There is plenty of beauty on this trip, for sure. I've posted some photos to Facebook along the way (this being one of my favorites — Hot Springs, Montana), and they all carry the theme of "Great Wide Open." Sky and mountains and water, as far as one can see across the endless vistas. You can grow accustomed to it.
Yesterday, we crossed into northern Idaho, and beheld one of the prettiest, cleanest, and from what I could tell from the road, most happening cities I've ever seen: Coeur d'Alene. I was too busy gawking to take photos, so I didn't get any of the true gemstone of this city: Lake Coeur d'Alene. Wow, I want to be there. I want to live there someday.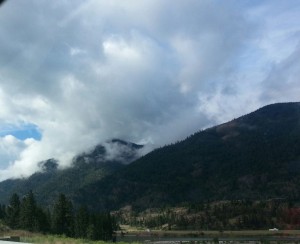 Anyway. After the last two unfortunate nights of sleep (in a Microtel that gave new meaning to the adjective "micro," and the very interesting Lake McDonald "cabin"), we drove through the gorgeous Flathead Valley to scenic ski mecca Kalispell (pictured), and through Idaho to Washington.
Northwest Montana and northern Idaho? Nothing beats it, in my opinion.
We got into Spokane late afternoon, and spent the evening vegging. After the miserable night's sleep on Thursday, it was much needed!
Today, I think we're going to Mt. Rainier. Or is it Mt. St. Helens? I dunno, and the Thriller is still sleeping. But I do know it's Saturday. Are you impressed??

OK, I looked at the calendar. Have a good weekend, fiends — check ya later with some fotos.
Fink out