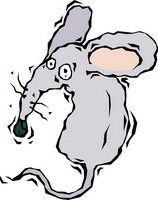 This morning I read a story about someone playing at the beach with her family, and getting buried in the sand up to her neck.
That would push me right over the edge. Actually, lots of things make me ooky. Hmm.
Phink Phobias
This thing

, of course

Having anything over my face, or someone covering my head with a blanket or pillow

Stepping in a hole and snapping my ankle (again)

Heights

Snakes
Now, this doesn't mean I lapse into massive apoplexy or run about screaming when I encounter the above (I mean, I will fly if I absolutely have to, and I've ridden lots of roller coasters and that Power Tower thing at Cedar Point), but I certainly don't enjoy experiencing any of the five. Feh, there are probably more I could add to the list.
Wait — I retract the apoplexy statement. #2 will send me into flippin' orbit. I will take you out if you try it. And your family and your cat, too.
What makes you jittery, uncomfortable or even terrified? I covet your lists.
Is it finally Finkday? Yay!!