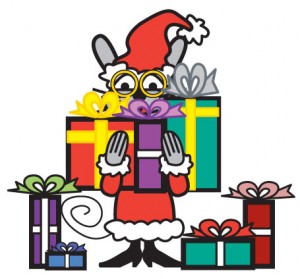 Last year, I got really behind in wrapping gifts, and it was a back-breaking session of  ||:measure, cut and tape:|| a couple nights before the family arrived. I said, "Next year, I'm getting a jump on things; I will wrap presents early."
And here I sit.
Not that I mind, mind. One of the reasons I do all my Christmas shopping on the Friday after Thanksgiving is so December won't turn into a ridiculous exercise in insanity for the sake of buying things. I'm glad, after school is out, to have a few days to rest and enjoy life as it leads up to Christmas Eve, when we have our family gathering. That, and I need to use my downtime over Christmas break to get Dinner Theatre stuff ready.
I've also had a couple of disappointments in the gift department — something I've not had before. One fun clothing gift has gone back already (it wouldn't have fit the recipient very well, even though the size was correct), and I bought myself some $70 boots for $20 at Payless.com, and they're too wide in the leg for my taste. So, back they go. Bummer. No worries, though. I have plenty of time, and I am still convinced that shopping online is way better than schlepping it out in the freezing cold rain and snow. I mean, I can hit 10 stores online in one hour, with access to every available color (not to mention all brought to my door, free of charge). Try doing that while fighting traffic and parking and slow lines and annoying people and picked-over stuff. What's not to like?
How do you do your shopping? Are you the last-minute, 11:59 on Christmas Eve type? Do you spread out your shopping over time, or do you like to get it done all at once? While I know the gift-giving isn't the most important part of Christmas, it is definitely everywhere you look. You can't sling a cat without hitting a Christmas sale or department store commercial on TV and radio.
But you know…I don't mind it that much. Giving gifts may not be the most important part of Christmas, but it is one of the most enjoyable, and I think you'd be hard pressed to find someone who doesn't get a huge kick out of seeing the faces of friends and family when they open a gift specially chosen for them. It's all part of the love, and that's really what Christmas was and is about, isn't it? Whether you believe it's love within the human spirit, or love in the form of a child sent by God to be the savior of the world — it's still love. And I'm fine with that.
Is it Finkday yet? Look at me, just off a 6-day break and already complaining…