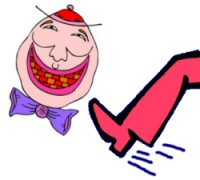 BOOT.
So yesterday morning, I allowed myself a little crowing space. By 12:30 in the afternoon, the wheels had fallen off (alongside the heads of most of my high school choir). Innat just the way? And when will I ever again post about what a boss choral director I think I am? Um, NEVER.
BOOT to the head. Finkleman, Finkleman. What a donkey.
But I'm looking forward to rehearsal today. Running Act I. Should be verrrry especial…
So what are you up to this fine Saturday? I'm going to go up and see if Jake's ready to get up and have some breakfast.
FO
PS – I just saw this on Facebook. I have to tell you, it's funny. *ducking and running*