Wow, what a busy Wednesday yesterday. So fun…
We had a quick breakfast at the hotel (don't get me started about Microtel…), got the car fueled up, and took off for the Painted Canyon at Theodore Roosevelt National Park.
I had no idea this park even existed. What a gorgeous place, and a wonderful tribute to the bigger-than-life man known as the father of the conservation movement. We started with Painted Canyon, outside the boundaries of the park. I'm telling you, fiends: you've heard the adage, "Pictures don't do it justice," right? Well, I have to apply that old chestnut here. I mean, the prairie just goes on and on and on. It's breathtaking.
After lingering there for a while, we took off for the north entrance of the park. Fortunately for us, the Thriller had done some preparatory research and discovered that the "Scenic Drive" was down to a one-lane road due to construction, so we hightailed it up to the north side road. I don't think we missed much, as the drive and hikes we took were amazingly beautiful.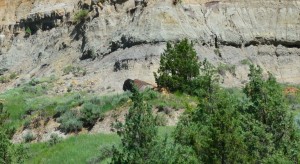 And hey, we're officially wildlife photographers. We caught this guy sunning himself, far beyond where visitors were allowed. Fortunately, we had the telephoto lens with us. We saw two more buffalo, but they were way far away, moving through the grazing grasses.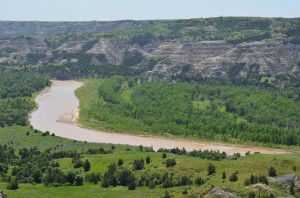 When we got to the end of the 14-mile trek, we were at the highest point in the park, where the plains meet the sky. It was awe-inspiring, truly, and of course I had to take a Titanic photo, featuring me as king of the world.

It was a completely beautiful day, start to finish. When we got to the Cottonwood Inn in weird-but-wonderful Glasgow, Montana, we had a nice dinner and went next door to a tiny little casino and won a hundred clams. How about that?
Today, we fight the rainstorms at Glacier. I hope they abate long enough for us to get out and explore a bit. If not, we'll get out and explore in our raincoats and umbrella.
Unless it's cold rain. The Fink doesn't do that. So fingers crossed for a break in the clouds. Reporting live from Glasgow…
FO