While cooking for a family dinner yesterday, Mavis and I talked about the eventual, hopeful remodel of my kitchen — especially since I plan to bake and write, hopefully for a little scratch, during my retirement years (and maybe even before then). Ah, if only the money in the bank matched the imagination in the brain, ja?
Anyway, part of the conversation included appliances, and how much they've changed. Mave told of a fridge she'd seen on TV with an embedded or mounted iPad on the front panel, which could display all of one's recipes with one touch. Then, last night, I got to thinking about retro design as well. Remember the appliances of old, when your parents and grandparents called a fridge an "ice box?" And what about the ubiquitous mustard yellow and avocado colors of the early 70s? You can hardly find those shades available anymore (probably with good reason).
I found some awesome print ads for appliances at Found in Mom's Basement. So glad that someone saved these gems: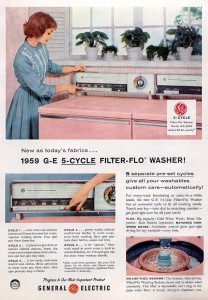 Now would I love canary yellow appliances? Shyeah! How awesome is that? Or a pink washer and dryer? Mad love. I'll bet you might have some tales to tell about the stuff your grandma had in her kitchen/laundry room. Alas, it's time to put away the dreams and hit the shower and the road, however. It's Monday. And there was much rejoicing.