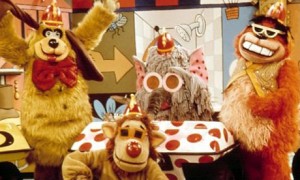 …three banana, four.
If you're old enough to remember those lyrics (and the TV show they're from), well…you're old. HA
<begin non sequitur>
Actually, I was counting the days on my fingers till opening night. Today, Monday, Tuesday, Wednesday, Thursday. That's how many rehearsals remain. You'd think that after going through this routine in some capacity for what — 35+ years now? — I'd have it down to a science. But it's still unnerving, I must say.
For those who know the theater drill, the tech rehearsal (where actors rehearse with lights, mics and scene/costume changes for the first time) can be excellent, disastrous, or some mix of both. I'd be happy with C, because it definitely will not be A. Best part about the rehearsal? The food! Our Music Parents Organization is so good to us…we don't deserve them.
But first, I must make some of those drop-dead espresso brownies. Then it's on to Perkins for a birthday brunch for the lovely Simone, who turns 30-something tomorrow. After that, I hit the road and the theater for the rest of the day.
Five banana, six banana, seven banana eight. Better get movin' or I'm gonna be…