…and into the wild.
This was the view from our car before we climbed the impossibly huge mountain:
And this is the view from the summit: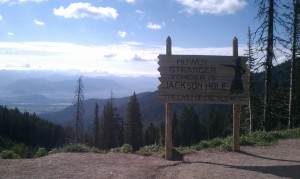 After that little victory (those of you who know my car will smile), we headed for Idaho — another first for both of us. It was a long day in the car; longer than we usually like to spend (around 7 hours). But when we got to Elko, NV — think Las Vegas, but 1/100th the size — we had a relaxing night and went out for some casino fun.
Now it's off to Reno, the hub from which we hope to branch out to see Carson City, Virginia City and Lake Tahoe, where we plan to hit Cal Neva (Sinatra's old digs). We'll be at the Peppermill Resort for two days. Yay, no packing and schlepping for awhile!
Is it Saturday? I think so…have a great weekend, luvs.