After the craziness of Hershey and Gettysburg, it was good to arrive in New England for a bit of a change of pace. We certainly had it yesterday in Stamford, Connecticut.
The town is beautiful, really. We drove a great deal of it, and saw very little of what you might call a "seedy" or "dangerous" part of town. The downtown area is fantastic, and we stopped at the famous Remo's Brick Oven and had some great Italian food.
After lunch, we explored. Dyke and Kosciuszko Park was where we ended up: a peaceful experience. I was expecting a sort of "beach," but instead there was a delightful view of sailboats and yachts (unsurprising, since there's a yacht marina close by).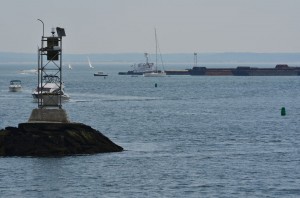 We took a leisurely walk on a paved path all around the small peninsula that juts out into Long Island Sound. Nice views, quiet area. Just what we needed.
What we didn't need was the rather silly evening activity of going to see Abraham Lincoln: Vampire Hunter. Ha. But hey, it was a fun diversion.
Speaking of diversions, today is a 2-hour trip east to the Bellissimo Grande Hotel, for some gawdy gawking at the 5th largest casino in the world — Foxwoods. Fun. 

Flip side, fiends!