Same word, two definitions.
What's awesome about the Gettysburg battlefield? The sheer size and scope.
On this day in 1863, General Robert E. Lee led what eventually became 75,000 Confederate soldiers in an attack on this Pennsylvania town and its environs, driving back Maj. General George Mead's Union Army, reinforced to 88,000 men.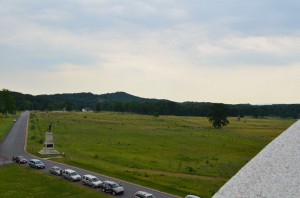 It's difficult to take in the size of the battlefield. We stood on the upper viewing deck of the Pennsylvania Monument at the battlefield and surveyed the entire area on all sides. You can't even imagine it until you see it. The two photographs here represent two quadrant views of what amounts to 10,000 acres of killing ground.
People were quiet, introspective, respectful. This is a place where 7,000 men and 3,000 horses died. There's scope for you. It's a sobering thought. Although we've had
many wars in our nation's comparatively brief existence, none in my opinion were more terrible than the one that set American against American.
But so it went, for three solid days, in the heat and the mud and the blood. We saw several homes that were used as military hospitals; one can only imagine the horror of what passed for triage. Those lucky enough to live to tell the tales likely never wanted to share.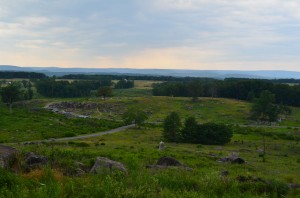 This battle was awesome, in that it inspires awe; it almost defies description. As Lee's defeated troops made their retreat back to Virginia, the line of wounded stretched for fourteen miles.
Gettysburg is coming up on its 150th anniversary next year, and the preparations have been underway for quite some time. The historic downtown area is delightful; we enjoyed walking the main street up and down, taking in our favorite aspect: the architecture. What were once private homes — some used as military offices — are now restaurants, gift shops, apartments and ice cream shops. And that's where the second "awesome" definition comes in.
We had lunch at Hunt's Battlefield Fries and Café, in the heart of historic Gettysburg (we did this before going to the battlefield, actually). We'd read that the french fries were "worth fighting over," and they were right on target. I had a fantastic grilled ham and cheese sandwich, and the Thriller had the best Philly cheese steak ever.
The place seats only 18 people. There are exactly six tables in what was surely the front room of the early 1800s dwelling in which the restaurant resides. We were lucky enough to walk in at the right time, when one table was available. But that wasn't the awesome part. THIS was the awesome part:
We met up with my cousin Susie and her husband Larry, whom I hadn't seen for at least 35 years. What a delight! We fell right back into conversation with no effort, as if we'd just seen each other last week at Grandma's.
So, what a day, eh? By the time we got back to the hotel, we were both rag dolls.
Today is a driving day. We're off to Stamford, CT, where we'll likely bypass sandwiches from the cooler and go out for dinner and a walk on the beach — maybe take in a movie. Whatever…we're on vacation.
And it's Sumday — enjoy your day! I hope the weather is calming down where you are.