This recipe is tried and true by Yours Truly. Every time I want to "detox" (I really do hate that word, but it somewhat fits here) by losing pent-up water weight, I'll make a batch of it and eat it for two meals a day for three days in a row. The results are quick and visible, trust me. The jeans feel different.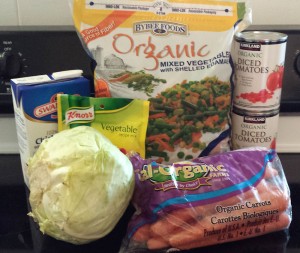 Easy Vegetable Soup 
8 cups mixed vegetables
1 small cabbage, chopped
4 carrots, sliced (I love cooked carrots, so I add them. You can use however many fun veggies you can think of.)
2 14.5-oz. cans diced or stewed tomatoes (diced are cut up smaller, which I prefer)
1 32-oz. box chicken broth
1 envelope Knorr Vegetable Recipe Mix
4 cups water
Ground pepper, to taste
Directions
Chop up the cabbage and carrots, and put them in a stock pot, along with the frozen mixed veggies and both cans of tomatoes.
Pour the chicken broth into a medium bowl or 4-cup measure. Mix in the Knorr soup envelope, and pour it over the vegetables in the stock pot. Add ground pepper and stir it all up.
Cover the lot with the 4 cups of water, or enough so that the liquid covers the veggies.
Bring the soup to a boil, then reduce the heat to low and simmer for a bit, so the flavors have a chance to dance together.
Makes one gallon of soup, and freezes well.
Review
There's no magic to this recipe and what it does. Put simply: it's a lot of watery vegetables that fill you up till your next meal. That, and it's also a great calorie bargain, at about 75 per serving, so you can chow down on it, if cabbage doesn't bother you. The best part is that it's absolutely savory-delicious — and that's something, coming from a lifelong vegetable hater. In fact, I still have to force myself to eat vegetables, even in this comparatively tasty format. I wish I weren't this way.
You would hate being me, seriously.
This recipe is "easy." That is, minimal effort is the focus. I use frozen vegetables. It's fast and convenient, although I have used all fresh in the past. The part I never exclude is the Knorr veggie soup mix. I have experimented with my own spices, and to me, it just never comes close to the Knorr combination. Of course, you can substitute and experiment to your delight. Hard to go wrong with vegetable soup made from chicken stock. (You can also use vegetable stock, or just plain water.)
To those concerned about the sodium content of the Knorr: while it is on the high side, the mix-to-liquid ratio is twice that of the package directions, so the greater volume reduces the sodium-per-serving by half.
Adding chunks of chicken is a fun variation, and adds some protein kick. Although it's not something we'd eat every week, it's a welcome change of pace around here. Highly recommended.
On the Rat-O-Meter scale of five cheeses, I give Easy Vegetable Soup: