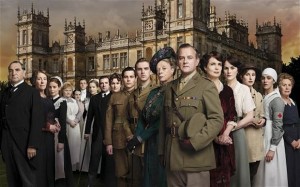 I think we can safely say with confidence that no one does the "country manor house" genre of television better than the Brits. And boy, have they outdone themselves with the PBS series Downton Abbey, winning Emmys and outdoing Mad Men and Modern Family a year ago as the world's most critically acclaimed TV show. And as an avid Mad Men fanatic, I can tell you that is an impressive statistic.
How fun to become addicted to a new show. It's not often in British television that one finds oneself rooting for the underdog, and truly caring about meaningful characters in Edwardian England: a time when class distinction — and being born into either servitude or privilege — was the order of the day. Set in the early 1900s (the premiere episode takes place on 15 April, 1912, the morning after the sinking of the Titanic), the story centers around the Crawley family who live in Downton Abbey, a sprawling country estate steeped in tradition and grandeur, with a complete staff of servants.
I thought Elizabeth McGovern had slid off the world. How wonderful to see her back in the saddle, playing a gentle American heiress and socialite from Cincinnati, transplanted to England to marry Robert Crawley, Earl of Grantham. They had three daughters, now all in their late teens and early 20s — but no sons. Through a complicated legal snafu, the inheritance of the eldest daughter is now in question, as the legal heirs to the estate went down with the Titanic. Their search for the next of kin forms the basis of the storyline.
Costumes, photography, script, character development — absolutely stunning. Over the last four days, I have gobbled up all seven (only seven, bummer) episodes of the first season. Now I need to get caught up on the current season, which I believe we can all watch online at pbs.org. You don't have to be an Anglophile to adore this series. It's more than an updated retelling of Upstairs, Downstairs. Rather, it's a backwards glance to a pivotal time in British history, when the reality of political upheaval and world war shook everyone's faith and highlighted both the frailty and tenacity of the human spirit. It's truly inspiring storytelling.
On the Rat-O-Meter scale of five cheeses, I give Downton Abbey: