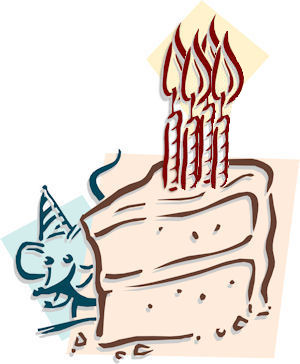 I totally forgot that yesterday was my birthday. Finkweb's birthday, that is. And of course, in celebration, I shall have to bake something. Nah, maybe not. What I will do is thank you once again for reading and sharing your thoughts on this little forum for the last four years.
February 2008 — I had no business starting a writing adventure, since I was hip-deep in teaching, rehearsing shows, and taking night classes. Whatever possessed me to go, "I think I'll start a blog about nothing," I'll never know. The conventional wisdom at that time advised against starting a blog that didn't have a specific purpose — and I was definitely purposeless — but I'm glad I jumped in anyway, because not only am I building a portfolio of essays for some future, pie-in-the-sky hopeful writing job, I'm enjoying the somewhat daily contact with family and friends: something very important to me. (Have I told you how much I love the comment love?)
Who could ask for a better result? All this blessing from a blog about nothing.
And I have you to thank for it.
Happity birthday to us!