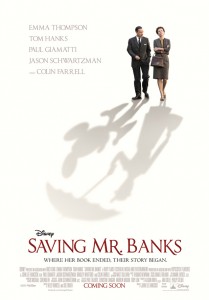 The movie theater was crowded yesterday afternoon when Kay and I went to see the latest Disney movie, Saving Mr. Banks. But it didn't matter. Regardless of how many of us were stuffed in that room, I'd have still come away totally pleased with this beautiful, poignant — and at times, powerful — story.
Yes, yes, insert here the obligatory snappy snark from the hip-to-hate-Disney naysayers. Did we bawl? Absolutely! Did it tug at the heart at all the right moments? Of course. I still have no idea what's wrong with that. I swear, my fuse gets shorter by the year with prissy, pretentious critics who wouldn't be caught dead putting a stamp of approval on anything remotely formulaic — especially when the formula features Disney's stamp. Into the trash heap with them, anyhow.
As you probably know, the story chronicles the culmination of a 20-year quest by Walt Disney to persuade the irrepressibly demanding Pamela L. Travers (played perfectly by Emma Thompson) to relinquish the rights to her Mary Poppins book series so Disney could make the film. What develops is an oddly endearing friendship between two larger-than-life people who were, in their individual ways, chained to — and driven by — formidable childhood memories.
The story, as the title suggests, centers around the realization by Disney that Mary Poppins came not to save the young Banks children, but to save their father — Travers's father by extension in this case, played by the always-dreamy Colin Farrell in beautifully acted flashback scenes.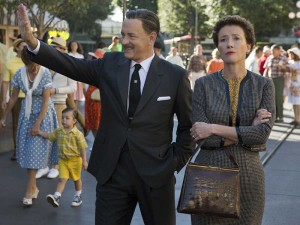 While delving into the reasons why the authoress is so dead-set against releasing the rights to her stories (and in effect, her father, who was a beautiful dreamer with a gargantuan drinking problem), Disney himself comes to a point of self-discovery regarding his own past. It's all smoothly done, and before you know it, you're swept up into the emotional drive towards the end you know is coming. It was all irresistible, and we loved it.
Paul Giamatti, one of my all-time favorite actors, was beyond sweet as the Disney employee assigned to drive Mrs. Travers around Los Angeles on her visit. The scenes with Disney artist Don DaGradi (Bradley Whitford of West Wing fame) and the fantastically talented songwriting team of Robert and Dick Sherman were especially funny. The fact that the finicky Travers insisted that all their brainstorming sessions be tape-recorded is surpassed in coolness only by the fact that the tapes still exist in the Disney archives. What a treat it was to hear her actual voice during the credits.
You'll laugh, you'll cry — it'll be better than Cats. (But what isn't?) Yes, you should expect the standard Disney feel-good aspects; they abound, for sure. And of course, the Disney franchise comes off looking pretty squeaky clean; any identifiable "weaknesses" manifest mostly in Travers's character and not Disney's. Even with these predictable turns, however, the storytelling is believable, and the visual experience is top-notch.

The only shame is that the Oscar nominating committee completely skipped over this project (with one exception: Thomas Newman is nominated for his original film score). No matter, though. Good films are made all the time, and many are snubbed by the Academy. For my money, it was a lovely afternoon of forgetting about the upcoming stresses of the work week for both Kay and me — and I'll bet it would do the same for you. It's an enchanting story, delightfully told.
On the Rat-O-Meter scale of five cheeses, I give Saving Mr. Banks :