Hmmm.
Not sure what to think about the Surgi Snuggly that arrived this morning. We were tres excité about getting something that would help Remy's paralyzing fear of the cone collar, and after watching the videos and reading the testimonials about the Snuggly, we were sure it was going to work. Well…not so much. At least at the outset.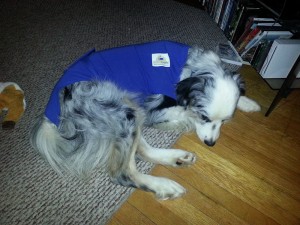 The garment went on perfectly, and everything is in place. The incision area is covered by two straps that come up and around, and are secured in place by a flap/pocket thingy lined in Velcro. Perfect, snug fit. An initial "positive" is that he does seem less anxious and nervous and fretful. It is supposed to act (and does act) like a "Thundershirt," or similar garment designed to decrease fear and anxiety in pets. That's a good thing.
But — Remy can easily move the two undergirth straps out of the way with his nose, and bite at the sutures on his neuter incision. What?! Um. And even when he's not moving the straps to bite at the stitches, he's biting at the stitches through the top of the fabric.
I'm sure the sutures itch. I've had enough surgeries in my life to know that. And I've checked to make sure the soft fabric of the Snuggly is not rubbing against the stitches. At any other time, he doesn't seem bothered by it at all. In fact, I think he likes wearing it, because it makes him feel…well…snuggly.

At any rate, we'll keep trying. It's better than having nothing at all, and certainly a darn sight better than the dreaded cone. The ProCollar we bought as a stop-gap measure didn't do the trick, either. I think Remy was a borderline size problem, whereby the large was too large, and the medium was too small. Fail.
Next on the list is to get an old pair of the Thriller's undies and put those on underneath the Snuggly. Maybe it'll provide some more padding, and another "layer" he'll have to fight to get through to the sutures. Cripes…
I know that this too shall pass. Hopefully by tomorrow, he'll be a bit less itchy and twitchy, and he'll start to forget about the stitches. He goes in next Thursday for the post-op checkup, so we should be good by then.
Happy MLK weekend, fiends. Off to work we go…