Well, I know what some critics said about it. It's not "scary" in the new tradition (astounding special effects), but in the old way, it's spooky. In other words, you scare yourself.
Critics who said that Daniel Radcliffe's first post-Potter film The Woman in Black plays out like an old 60s or 70s horror movie were, in fact, complimenting it, in my opinion. Today's movie-going horror fan expects something quite different than those of the past. In 2012, we want to be amazed as well as terrified. Me? If I'm going to watch a scary movie (and I definitely do not enjoy the experience, believe me), I want it to scare me from the inside. To me, that's where the true nightmares lie: in one's own mind. That's why, if I have to choose a favorite category of scary film, I'll go for a ghost story any day. They just creep me out the most.
Woman in Black, based on the 1983 novel by Susan R. Hill, tells the tale of a vengeful, menacing spirit that terrorizes a small English village. Arthur Kipps (Radcliffe), a young lawyer, is dispatched to the town to sew up the legal affairs of a reclusive widow who recently died in a craggy, creepy old mansion that no one dared to go near. He finds the townspeople extremely unfriendly and suspicious. As the story unfolds, Kipps is sucked further and further into the horrifying history of the house and its inhabitants.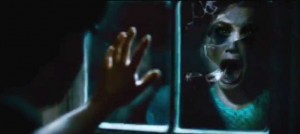 He sees the spectre of a woman dressed in black, and eventually discovers that every time someone sees this apparition, a child dies.
The "scary" for me in this film, of course, was largely of the "jump-out-and-BOO!" variety. I hate that. Tortured, ghoulish faces appear out of nowhere, and inanimate objects move — all accompanied by the obligatory orchestral chord jab. Scares the livin' carp outta me. Thank goodness for my blanket; it helps me through those difficult passages.
Thing is, the obligatory orchestral chord jab is used — and used and used and used and used — until you're almost no longer listening to dialogue or following plot. Rather, you're just preparing for the next jump-out-and-BOO! It was distracting to me. Add to it the beyond cheesy ending (complete with one final obligatory orchestral chord jab), and I must say the experience was somewhat lacking. Less than fulfilling. Not a waste of time, but something I'd never watch twice.
Not that scary movies are things I ever watch more than once…
On the Rat-O-Meter scale of five cheeses, I give The Woman in Black: